American Express Cobalt™ Card
With 5x the rewards at eligible grocery stores, restaurants, and bars, the American Express Cobalt Card is the perfect credit card not just for millennials.
Card Details
Annual Fee

$120

Extra Card Fee

$0

Card Type

Credit
Purchase

19.99%

Cash Advance

21.99%

Balance Transfer

N/A
Personal Income

N/A

Household Income

N/A

Canadian resident who has reached the provincial age of majority.
| | |
| --- | --- |
| Extended Warranty | 1 year |
| Purchase Protection | 90 days |
| Travel Accident | $250,000 |
| Emergency Medical Term | 15 days |
| Flight Delay | $500 |
| Baggage Delay | $500 |
| Lost or Stolen Baggage | $500 |
| Hotel Burglary | $500 |
| Rental Car Theft & Damage | Yes |
Please review your insurance certificate for details, exclusions and limitations of your coverage.
If we find your match, we'll give you up to $25 when you refer your friends.*
American Express Cobalt review
Looking for the best credit card in Canada? You've come to the right place.
The American Express Cobalt Card is the best, hands down, and has been for years. I mean, take a look at all the awards it won on the left – only the best of the best can rack up that many #1 spots.
But what exactly makes it our #1 credit card? What features, big and small, make it stand above the rest? Here's what makes it special.
Welcome bonus
Let's start with the great welcome bonus you can get.
You'll earn 2,500 points every month you spend $500 in the first year, for a maximum of 30,000 points earned. This is a great way to get your next rewards trip kick-started – especially since it's worth about $525 when you maximize your redemptions.
Earn rates
But that's not all the points you'll be earning.
While you're securing all 30,000 welcome bonus points in your account, you'll also be earning points on your day-to-day spending.
What are you earning exactly?
5 points per $1 on groceries and restaurants (up to $30,000 annually),
2 points per $1 on gas, transit, and travel purchases, and
1 point per $1 on all other purchases.
That's a lot of points on pretty common purchases, especially on the most basic necessity of all – food.
Based on a typical monthly spend, you could expect to earn 51,600 points per year – or about $903 when redeemed through the Fixed Points Travel Program.
Add in the welcome bonus, and you've got yourself 81,600 points in year one – a whopping total of up to $1,428.
Amex Membership points value
Now that you know how many points you could earn in a year, what can you use them for?
The best value you'll get is redeeming them for travel. And with this card, you've got 3 travel redemption options at your disposal.
Here's an overview of them. For more details on Amex Membership Rewards, you can find them here. (Note that you won't be able to transfer your points to airline partners with the points collected on this card.)
Fixed Points Travel Program
The best value you'll get is by using the Fixed Points Travel Program.
What is it and how does it work? Basically, you use a set number of points to fly to a specific region. These points only cover the base airfare of your ticket, meaning you'll be required to pay any taxes, fees, and carrier surcharges.
What does it look like? Here's the economy class version of the chart: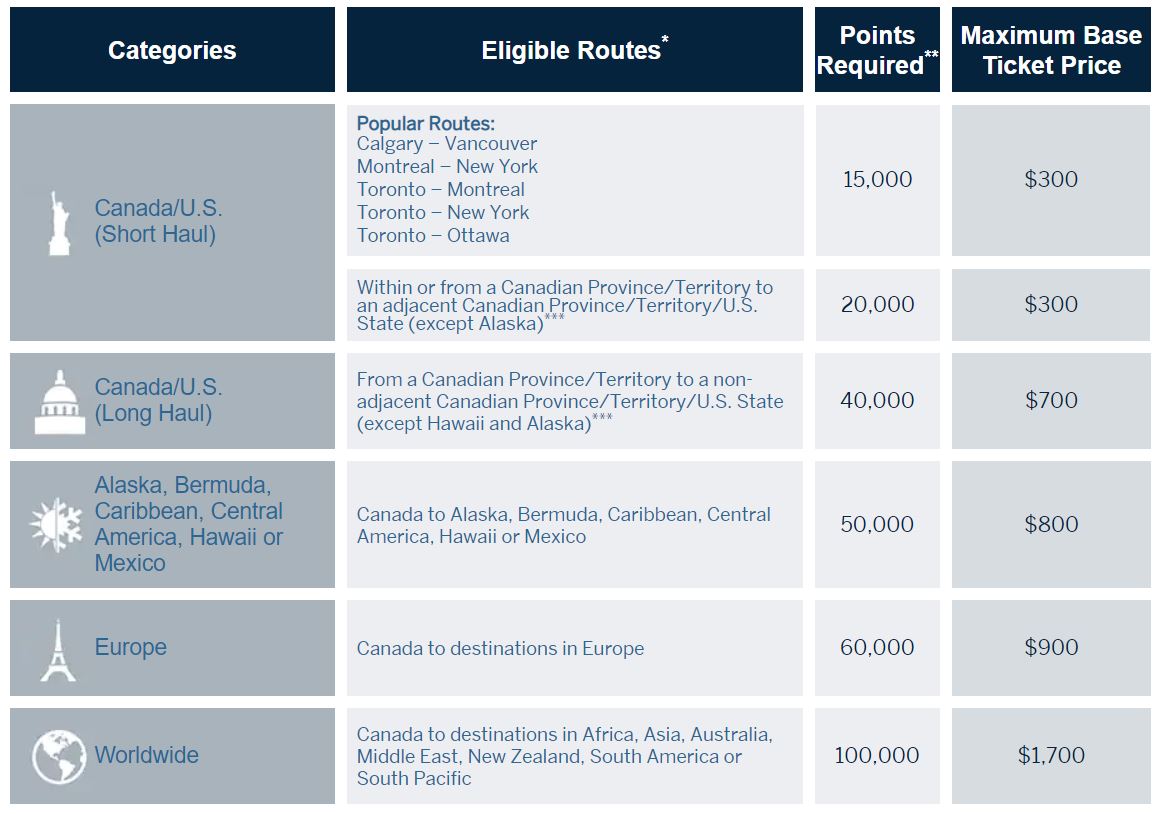 If you maximize this chart, on select short-haul routes you can get a value of up to 2 cents per mile. That being said, this is only possible on a limited number of flights – and most people aren't going to redeem for a free flight between Toronto and Montreal or Ottawa.
The next best sweet spot is on long-distance flights within North America. For 40,000 points, you can save up to $700, for a value of 1.75 cents per point.
If you can maximize this value, your 51,600 points collected per year are worth up to $903 – a return of 3.76% on 24K in annual spending. We've analyzed a lot of credit cards, and this is an incredible return on your spending.
How do you use the chart? Simply make a flight booking through American Express Travel. If you have enough points for the redemption, the Fixed Points Travel Program will available for you to use. Just note that the entire cost of the flight will be charged to your card, and you'll get a statement credit within 5 - 10 business days.
Transfer points to hotel programs
The one transfer option you can use with this card is to hotel partners. You can transfer your points to 2 hotel programs at certain transfer ratios: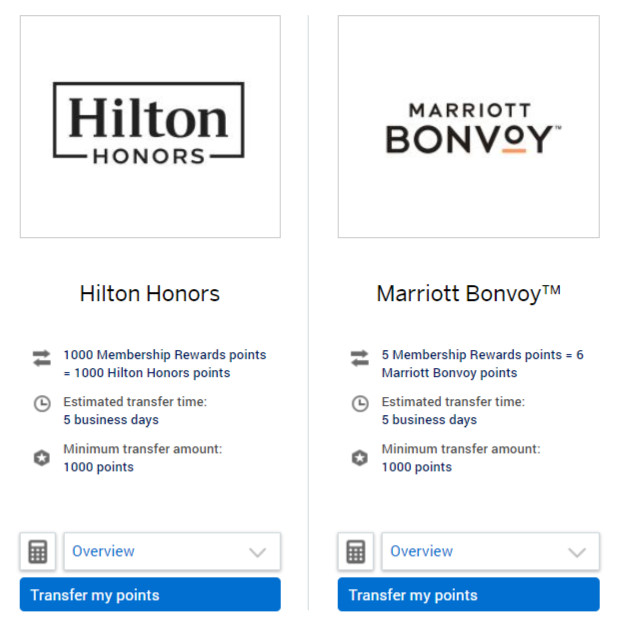 We'll focus on Marriott Bonvoy since the transfer ratio is better and provides more value.
When redeemed for hotel stays, an average Marriott Bonvoy point is worth 0.97 cents each.
So what does that make a Cobalt Point worth? Transferred to Marriott, your 51,600 points become 61,920 Marriott points.
61,920 Marriott points are worth $599, giving your Amex points a value of 1.16 cents each.
Flexible Points Travel Program
If any of the above options aren't giving you a value of at least 1 cent per point, then use the Flexible Points Travel Program instead.
How does it work? Simply choose ANY travel booking, from ANY provider of your choosing, and pay for it with your card. You can then use your points to help pay for the purchase.
Each point is always worth 1 cent when redeemed this way, giving 51,600 points a value of $516.
A bonus? If you booked a flight using the Fixed Points Chart and you have some points left over, you can use this option to help pay for the taxes and fee bills if you like.
American Express benefits
On top of all these points, you'll get some great Amex benefits as well.
The first is Amex Invites and Front of the Line. Amex cardholders get exclusive access to ticket sales to the hottest concerts through Ticketmaster.
For even more rewards, there's Amex Offers. You can earn easy bonus cash back when you make purchases through select merchants. To see what offers are available, you can find them here.
Insurance coverage
Finally, know you'll be covered on your journeys with the purchase and travel insurance provided by this card.
You'll get access to 9 different types of coverages – find all the details by clicking on the insurance tab above.
Annual fee
So how much is this card per year? It comes with a standard annual fee of $120.
But what's not-so-standard is the unique way you pay for this fee. You'll be charged $10 per month, letting you take bite-sized portions off the fee rather than just making you pay one lump sum every year.
In summary
It's easy to see why this card earns so many awards – it has top-notch rewards and great benefits.
The only minor downside is Amex acceptance, which is an issue for some but is improving all the time. Otherwise, there's lots to love with this card.
What are your thoughts?