BMO® Preferred Rate Mastercard®*
The BMO Preferred Rate Mastercard has permanently low interest rates so you don't need to worry when you can't quite make the full payment on time.
Card Details
Annual Fee

$20

Extra Card Fee

$0

Card Type

Credit
Purchase

12.99%

Cash Advance

12.99%

Balance Transfer

12.99%
Balance Transfer

3.99%

Transfer Term

9 months
Personal Income

$15,000

Household Income

N/A

Canadian resident who has reached the provincial age of majority.
| | |
| --- | --- |
| Extended Warranty | 1 year |
| Purchase Protection | 90 days |
Please review your insurance certificate for details, exclusions and limitations of your coverage.
BMO is not responsible for maintaining the content on this site. Please click on the Apply now link for the most up to date information.
If we find your match, we'll give you up to $25 when you refer your friends.*
Our Review
Do you have existing credit card debt that you would like to pay off faster? Are you someone who tends to have a balance on your credit card? Do you need immediate relief from high interest rates? If you answered yes to any of these questions, then a low interest credit card could be the answer.
The BMO Preferred Rate Mastercard is one of the top 10 low interest credit cards – and could end up saving you hundreds in interest per year. Tip: To find out exactly how much you'll save, enter your typical balance in our sidebar calculator – the 'Max Annual Savings' calculation will update instantly.)
For only $20 a year (that's currently waived for the first year), you can have a permanent interest rate of only 12.99% – that's for:
purchases,
cash advances and
balance transfers.
Not to mention the introductory balance transfer promo rate of 3.99% for 9 months. And with your savings on interest charges, you should be able to pay down your balance faster.
BMO Preferred Rate Mastercard Breakdown
For example, for a card balance of $2,000 with a 19.99% interest card your annual savings would be $240 in the first year (taking into account the first year free) by taking advantage of the introductory 3.99% balance transfer offer: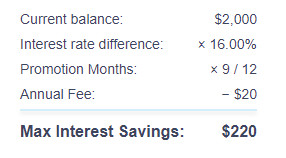 ...for a card balance of $8,000 with a 19.99% interest card your annual savings would be $940 using that same balance transfer offer: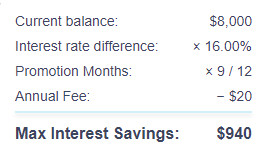 And because tables help make things more clear:
| Typical Card Balance | Max First Year Savings |
| --- | --- |
| $2,000 | $220 |
| $5,000 | $580 |
| $8,000 | $940 |
| $10,000 | $1,180 |
Two types of insurance coverage
As for insurance, this card gives you Purchase Protection, letting you shop with peace of mind knowing your purchases are covered in the event that your purchases are lost, stolen or damaged within 90 days. You also get one year of Extended Warranty – which kicks in once the manufacturer warranty expires.
Speaking of purchases, a little word of advice: The promotional balance transfer rate of 3.99% is only applied to balances transferred from one credit card to another – and does not apply to any new purchases you make with this card.
Not sure you need a low interest credit card?
If you don't have any pre existing credit card debt and you don't usually carry a balance on your card – then a low interest credit card might not be right for you.
Instead, consider a card that gives you rewards for all your purchases, like the no-fee BMO CashBack Mastercard or even the premium BMO CashBack World Mastercard (which also gives you flexibility on when you can redeem your rewards and free roadside assistance).
What are your thoughts?