Stack Prepaid Mastercard
The Stack Mastercard is a no fee prepaid card with no foreign exchange fees that lets you earn rewards with partnered retailers. You'll not only save on fees, but you'll also earn some bonus rewards with this prepaid card.
Card Details
Annual Fee

$0

Extra Card Fee

$0

Card Type

Prepaid
Purchase

N/A

Cash Advance

N/A

Balance Transfer

N/A
Personal Income

N/A

Household Income

N/A

Canadian resident who has reached the provincial age of majority.
If we find your match, we'll give you up to $25 when you refer your friends.*
Stack Mastercard review
A prepaid card with lots of great features, the Stack Mastercard takes having a prepaid card to another level.
Here are the features of this card that makes it great.
Loading your Stack Mastercard
First, you'll need to get some cash loaded onto your Stack Mastercard. And Stack has made this a simple process.
Interac e-transfer
The easiest way is to send an Interac e-transfer to your Stack account. Simply log in to their mobile app (you can find it here for iOS and here for Android), and tap on the dollar sign. Tap on "e-transfer load," and you'll be given the email address, security question, and security answer you need.
Simply send an Interac e-transfer to the email address shown, using your security question and answer given, and your card will be loaded and ready to go a few minutes after Stack receives your transfer.
Send a normal bill payment
Or, you can set up Stack as a bill payee and simply pay them as a normal bill payment. All the information about how to do this is in the Stack app.
This is another convenient option, but it's not as fast – it can take a few days for the funds to appear in your Stack account.
Cash load at select merchants
You can also do a cash load at a few select merchants. Simply tap on "cash load" in the app and a QR code will come up.
At these merchants, just show your QR code and you can make your payment by cash or debit:
Canadian Tire Gas+,
Canada Post,
Mobil,
Hasty Market, and
PharmaChoice.
Just note that there's a minimum load of $200 and a maximum of $500, except for Canada Post which offers a maximum load of $3,000.
Earning some rewards
Now that your card is loaded, can you earn some rewards? Of course!
Stack has partnerships with over 140 merchants, and you'll be able to earn some bonus cash back for shopping with them.
To find out what offers are out there, simply check the Stack app to see what's available.
Here's a sampling of what you can expect to see: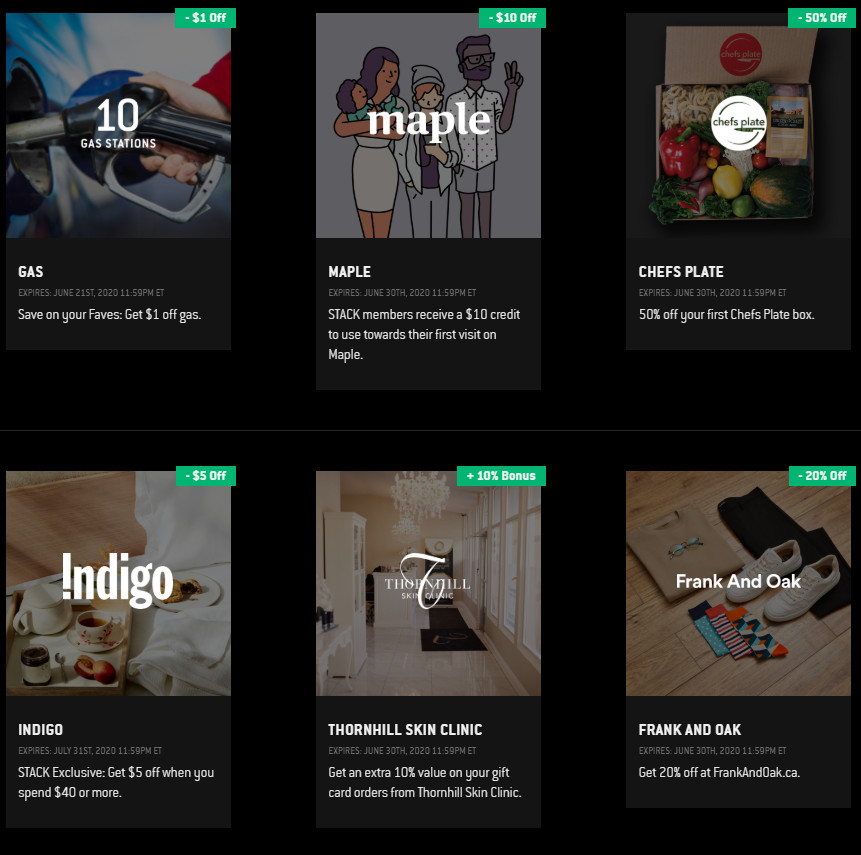 There are a few offers that are specialized, but most are easy to use. The gas offer is particularly interesting. Simply spend $10 at any of 10 gas stations, and you'll get $1 back, a return of up to 10%.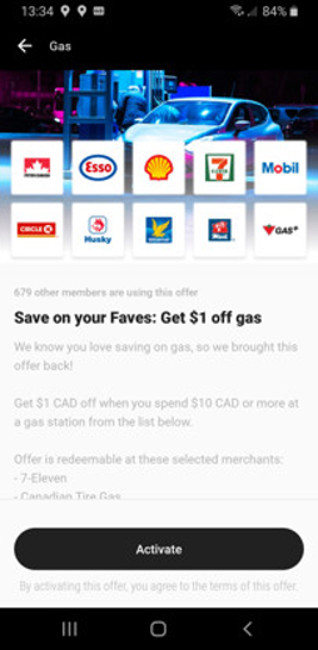 The Indigo offer is also great. Spend at least $40, and you'll get $5 back – a return of up to 8%.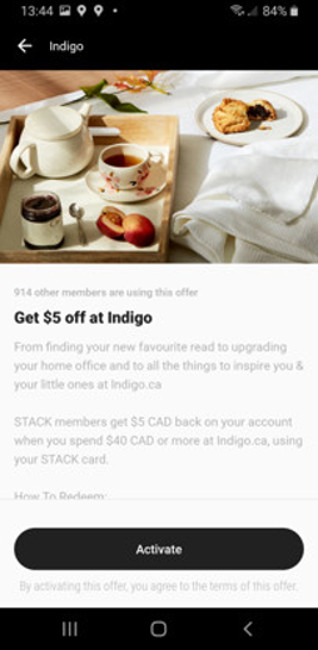 These are some easy savings that you can take advantage of.
Stack also offers bonuses when you refer a friend. Simply send your unique referral link to your friend, and you'll receive $5 when they activate their card.
After 5 referrals, you'll earn $10 for your next successful 5 referrals. Then starting on your 11th referral, you'll earn $15 for every referral.
The list of fees not charged
The best part about the Stack Mastercard? It charges relatively few fees, keeping more money in your pocket.
No annual fee
There's no annual fee for having an account open. You can spend and earn rewards without having to pay a penny for using the card.
No foreign transaction fees
One of our favourite things is when foreign transaction fees are waived. Most cards charge 2.5% when you pay in a foreign currency, which is anything other than CAD. But not the Stack Mastercard.
Make a purchase in any other currency, and you'll get a great exchange rate, and keep that 2.5% fee for yourself, every time.
No ATM withdrawal charge
No matter where you are in the world, if you need some cash, Stack won't charge you an ATM withdrawal fee.
For international withdrawals, this can save you up to $5 per withdrawal. Just note that you may still have to pay a convenience fee to the company operating the ATM.
Other features of the Stack Mastercard
There are some other unique features of this card that help make it stand out from the rest.
Stack Mastercard virtual card
When you get a Stack Mastercard, you also get access to a virtual card. Rather than having to dig out your physical card when making online purchases, you can instead access a virtual card through the Stack App.
On the Stack App home page, simply click "cards," and you'll be taken to a screen showing your virtual card, and you can get your card number, expiration date, and the security code you need to complete your transaction.
This virtual card also allows you to start using your account right away, as opposed to waiting for your physical card to come in the mail.
Easy access to your physical card pin number
The only way to change the pin number on your Stack Mastercard is to call Stack and get it changed.
But they make it easy to see what your current PIN is. On the same screen as your virtual card are your physical card details. One of the buttons you can see will let you view your PIN. Tap on it, enter in the code you've set for the app, and you'll be shown the PIN for your physical card.
Freeze your Stack Mastercards
Misplaced your card? Don't plan on using either your physical or virtual card for a little while? You can freeze them in the Stack app so they can't be used.
One of the buttons you can tap under each card is "Freeze Card". Tap that, and your card is instantly frozen and can't be used. Need to use it? Tap the same button (this time called "Unfreeze Card") and you'll be able to use it again.
Spend tracker
Finally, the Stack App also contains a spending tracker. Tap on "Trends" on the app home screen, and you'll be shown a breakdown of how you've been spending your money. It's an easy way to keep track of your spending habits.
In summary
The Stack Mastercard is a great prepaid option for earning some bonus rewards and saving on pesky fees.
And with multiple, easy-to-use options to load your card, you'll be enjoying your card in no time.
An alternative prepaid card to think about
Not sure if this is the right prepaid card for you? Another top prepaid card is the .
With this card, you'll earn 0.5% cash back on every purchase you make. And while it doesn't waive the foreign exchange fee, it does charge a lower rate of 1.5%, compared to the normal 2.5% most cards charge. It too has no annual fee.
You can also elect to upgrade your KOHO account to the . For an annual fee of $84, or $9 per month, you can earn 2% cash back on restaurants, groceries, gas, transit purchases, while earning 0.5% cash back on everything else.
As an added benefit, this card also has no foreign exchange fees. The best part? If it's not right for you, you can change to a regular KOHO account whenever you like at the press of a button.
What are your thoughts?