American Express Business Edge™ Card
Earn plenty of travel rewards on your business purchases with the American Express Business Edge card. Earn 3 times the points on business essentials like office supplies and gas, as well as a large welcome bonus.
| | |
| --- | --- |
| Extended Warranty | 1 year |
| Purchase Protection | 90 days |
| Rental Car Theft & Damage | Yes |
Please review your insurance certificate for details, exclusions and limitations of your coverage.
If we find your match, we'll give you up to $25 when you refer your friends.*
Our Review
Want more out of the rewards you get from purchases you make for your business? The American Express Business Edge™ Card will give you plenty of points, with many ways to use them.
Here's why you want to consider this card for your business purchases.
Earn rates
Let's start with the earn rates. For many basic business essentials, you'll earn plenty of points with this card.
On your daily purchases, here's what you'll earn:
3 points per $1 on office supplies, electronics, rides, gas, and restaurant purchases, and
1 point per $1 on all your other purchases.
There's also a large welcome bonus to get your points bank kick-started. You'll earn 30,000 welcome bonus points after spending $5,000 in the first 3 months. And every month you spend $3,000, you'll get another bonus 1,000 points, up to 12,000 points earned per year.
What you can do with your points
So what can you do with all of these points? You'll be earning Amex Membership Reward points, which are some of the most flexible rewards points out there.
In fact, there are 9 ways you can redeem your points. You can see all the different options above in the rewards tab, but we'll briefly cover the travel options here, as they provide the best value.
Just note that while Amex Membership Rewards allow transfers to airline programs, points accumulated with this card aren't eligible.
Fixed Points Travel program
The best way to use your points is with the Fixed Points Travel program. You'll use a set amount of points to fly to a set zone. These points cover the base airfare only, so you'll have to pay any taxes, fees, and carrier surcharges.
What does this chart look like? Here's the economy version of the chart: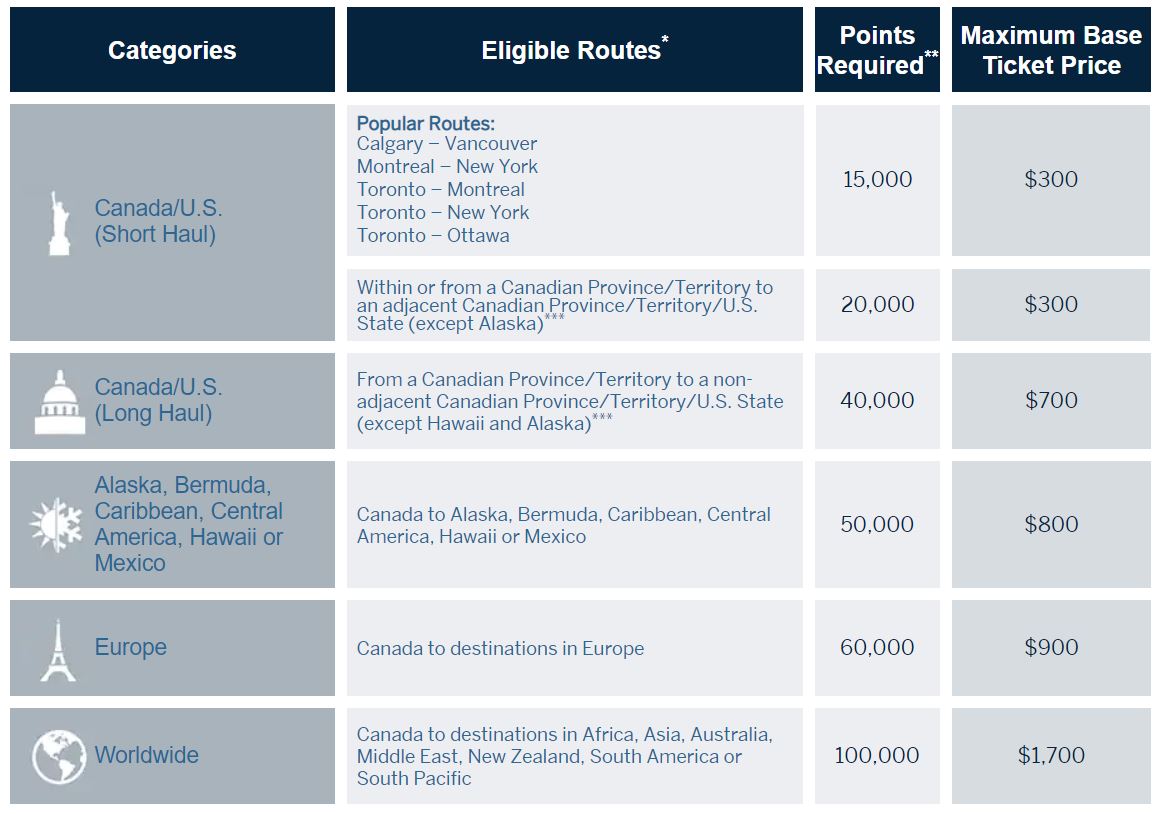 As you can see, there's cap on how much your points will cover. On select short-haul flights, you could get a value of up to 2 cents per point. But for most people, the best value lies in the long haul North American flights, where you could get a point value of up to 1.75 cents.
Transfer to Marriott Bonvoy
After the Fixed Points travel chart, transferring your points to Marriott Bonvoy is the next best option.
You can transfer Amex points at a 5:6 ratio to Marriott Bonoy. And since we value a Bonvoy point at 0.97 cents each when redeemed for free nights, this makes an Amex point worth 1.16 cents each with this option.
You can also transfer points to Hilton Honors at a 1:1 ratio.
Redeem for any travel
Finally, you can use your points to redeem for any travel from any provider. Simply charge the purchase to your card, and use your points to help pay for it. Each point is worth 1 cent each when used this way.
Bottom line
For flexible rewards, the American Express Business Edge™ Card offers plenty of points and multiple ways to get high value from them.
To earn Amex Membership Reward points and get plenty of premium travel perks, the is a card to look at.
If the Marriott Bonvoy transfer option intrigues you, you can collect Bonvoy points with the , which also offers an annual free night award.
What are your thoughts?